There are cities in the world – especially in the Middle East – that have been settled, fought over, dominated and destroyed by people from different cultures for thousands of years, only to rise from the ashes like a phoenix. Like Diyarbakır, the Kurdish metropolis in south-eastern Turkey.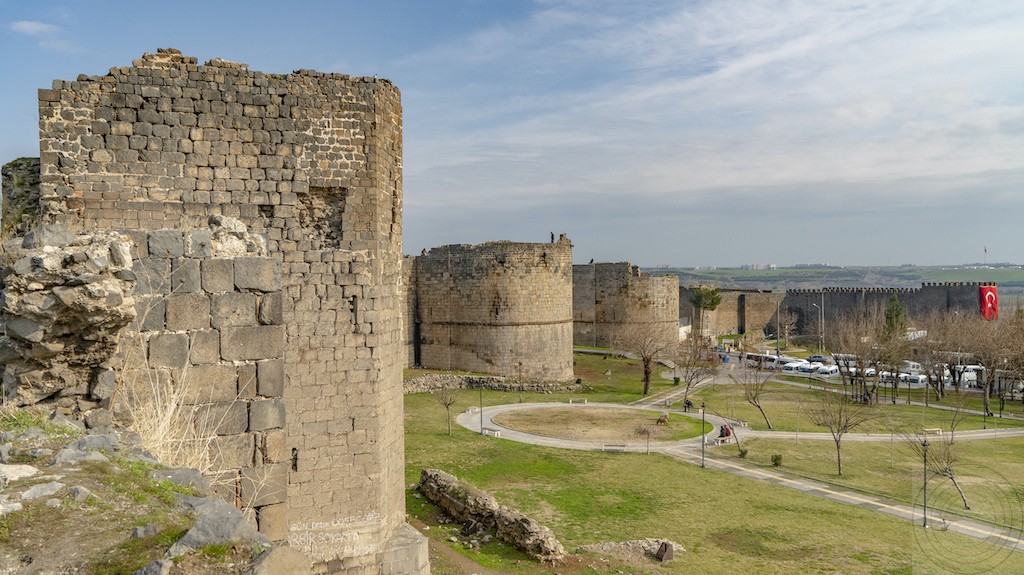 History and surroundings
The old town of Diyarbakır is surrounded by a 5.5 km long wall – the longest defensive wall of its kind after the Great Wall of China, and with a height of over eight meters even two meters higher! No one knows who laid the foundation stone for this giant building made of black basalt from the nearby Karacadağ volcano and in what primeval times. We do know that the settlement protected by the basalt wall under the name of Amida was an important garrison town in the far east of the Roman Empire. As part of the Byzantine Empire, Amida was a major Christian center, later followed by Arabs, various Turkish principalities and finally the Ottomans. There are still Armenian, Chaldean and Syrian Orthodox churches alongside ancient churches that have been converted into mosques. The cityscape is dominated by Kurds, but a large number of "Zaza", an East Anatolian population group with its own language and culture, also live here alongside the "Kurmanji".
Phoenix from the ashes
After the last major crisis in 2015, when Turkish armed forces and Kurdish separatists fought battles in the old town, everyday life is now pulsating again. On many street corners, mobile kebab vendors grill fresh lamb liver skewers seasoned with cumin – certainly the most popular dish in Diyarbakır. Traditional confectioners are once again offering "Kadayif" or angel hair, a sweet pastry and long-standing export hit from Diyarbakır. Many restaurant and café operators turned their backs on the troubled old town of Sur in 2015 and settled in the safe new town with its chic 75 Yol nightlife district, but there are also courageous entrepreneurs who want to turn the millennia-old city center back into a lively, attractive district.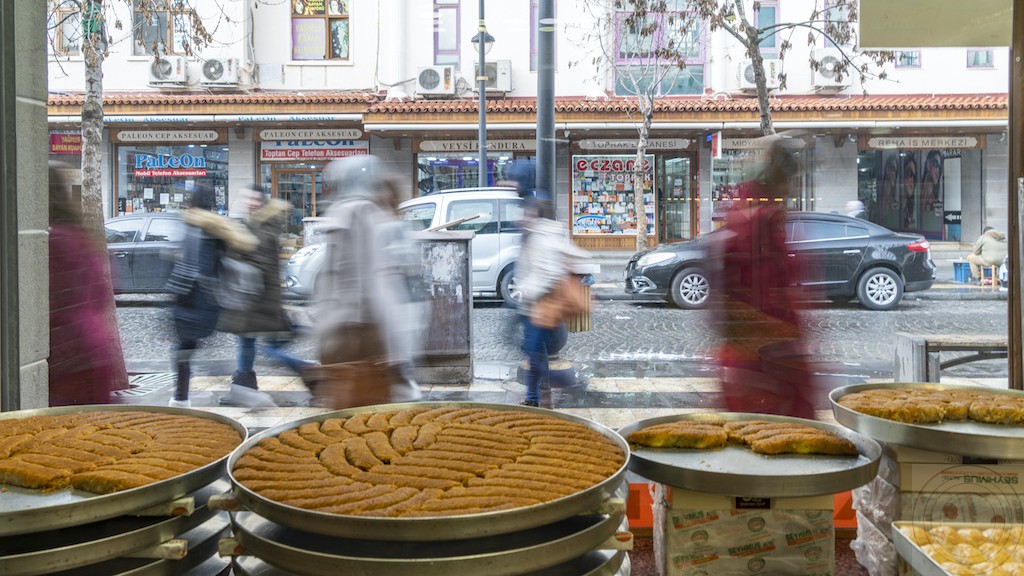 I had the opportunity to talk to two of them and – of course – try some dishes from their kitchens.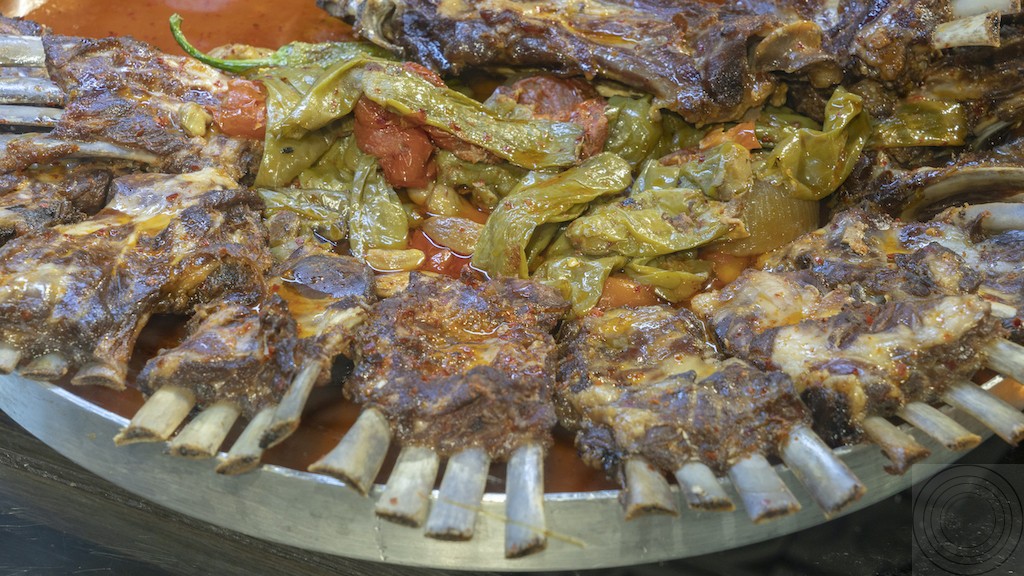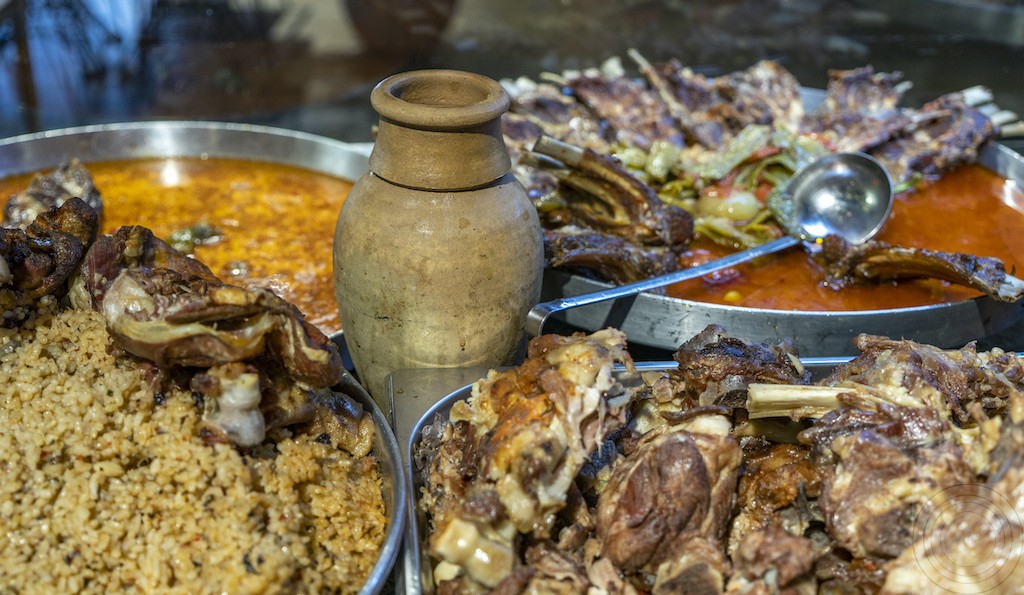 About East Anatolian cuisine
First things first: if you like vegan or light cuisine, you don't even need to come to Diyarbakır. People eat meat here! From the lamb. It is not easy to describe this taste or aroma in words. But anyone who has ever eaten lamb in south-eastern Turkey knows what I mean: even when unseasoned, it smells of herbs, is aromatic, juicy and tender… indescribably good.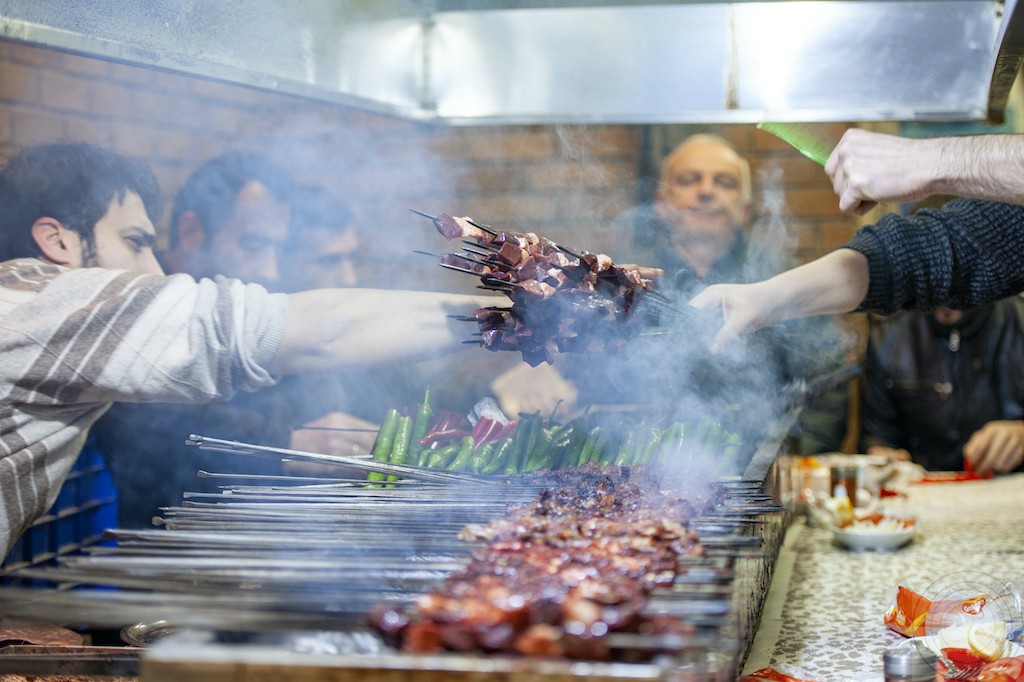 Kemikli Evi – Restaurant
Fatih Evsen, a young, old-school chef whose father and grandfather used to grill, cook and fry meat dishes in the Sur district, has restored one of the old basalt mansions not far from the main street Gazi Caddesi and has been serving meat dishes in his restaurant since August 2018.

Kemikli Evi

good Diyarbakır home cooking. On no less than three floors for up to 250 people.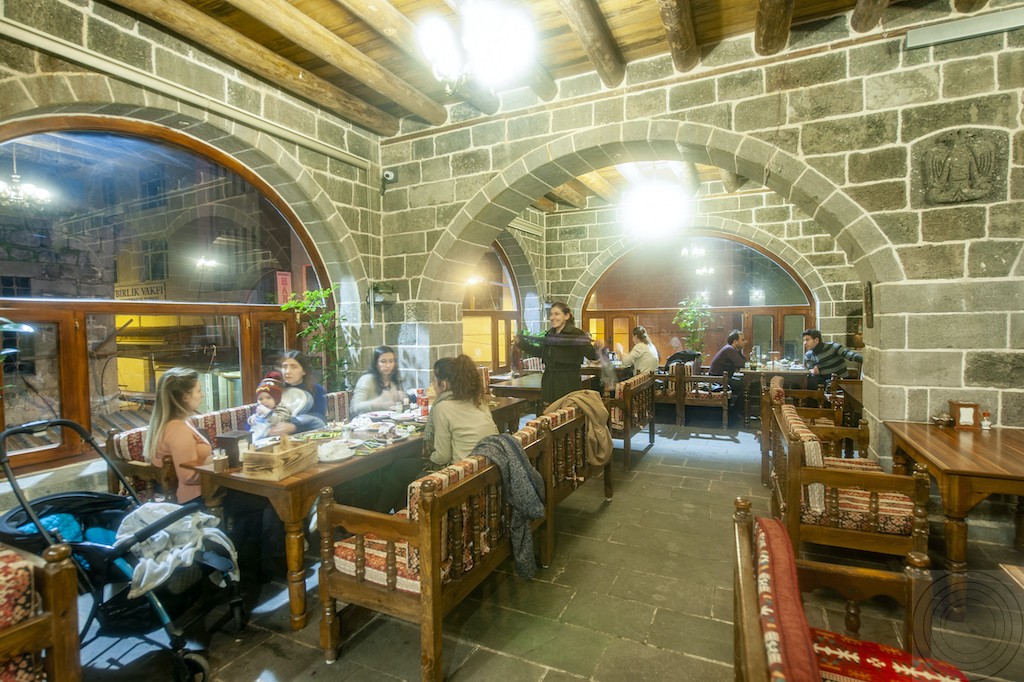 Despite its simple name, the dish that gives his establishment its name – Kemikli (meaning "meat on the bone") – is a delicacy that sells out every day. Unbreaded lamb chops without the rack (rib) are cooked on the grill together with hot peppers and served on very thin patties. Only those who arrive around noon or before 6 p.m. have the chance to get their hands on a portion of "Kemikli".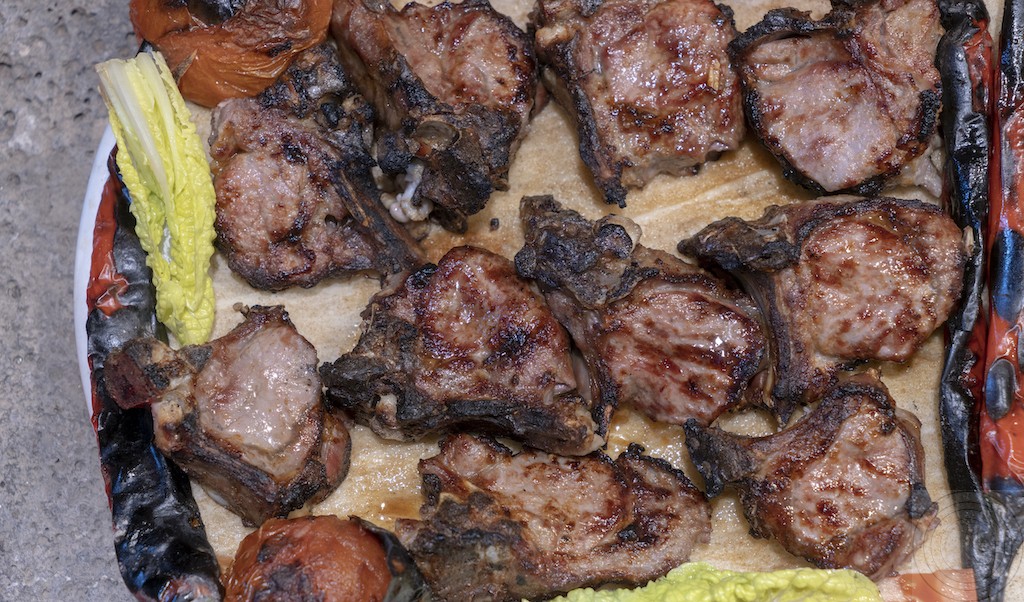 Of course, the other kebab dishes are also highly recommended. As is the case almost everywhere in south-eastern Turkey, the minced lamb used to prepare the kebab skewers really deserves its name, as it is minced by hand, with all the tendons removed first. The spicy Adana and mild Urfa kebabs melt in the mouth…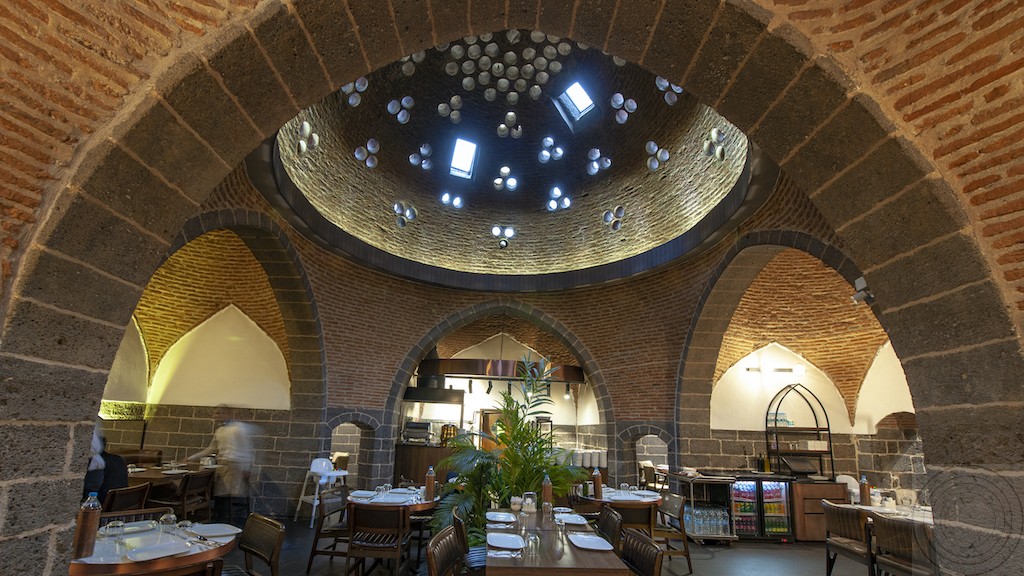 Restaurant Fırın-ci
Almost within shouting distance of the "Kemikli Evi", on the other side of Gazi Caddesi, lies

Fırın-ci

a restaurant that also opened in 2018. While tradition plays the main role for Fatih Evsen, the young entrepreneur Resul Fidan sees his mission as reinterpreting the traditional cuisine of Diyarbakır.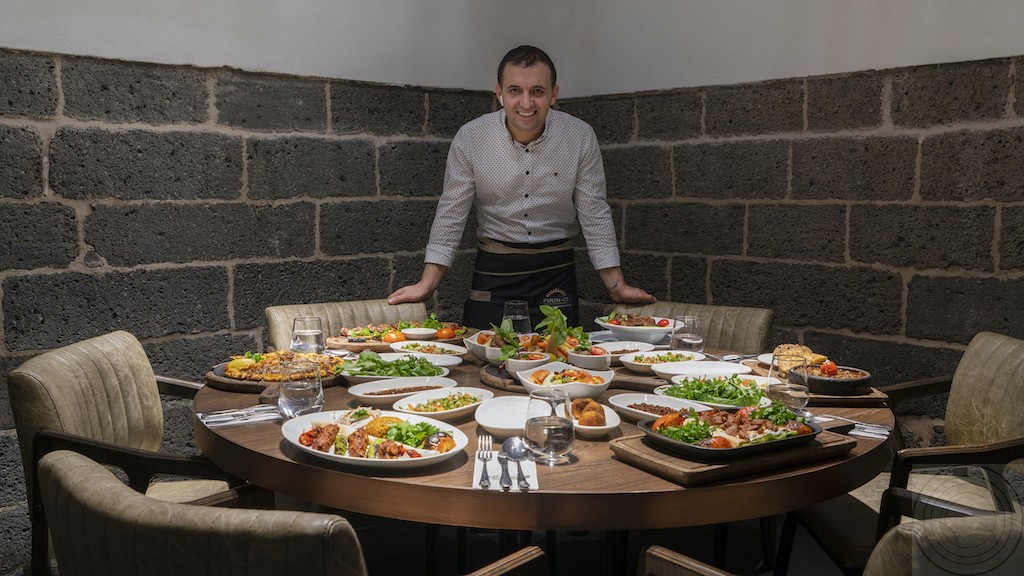 Even the restaurant building fits in very well with this approach: it is a Turkish bath – the hamam of Vahap Ağa – from the 16th century, which provides the setting for an opulently furnished restaurant with a mighty modern chandelier that fills the enormous dome of the former entrance area.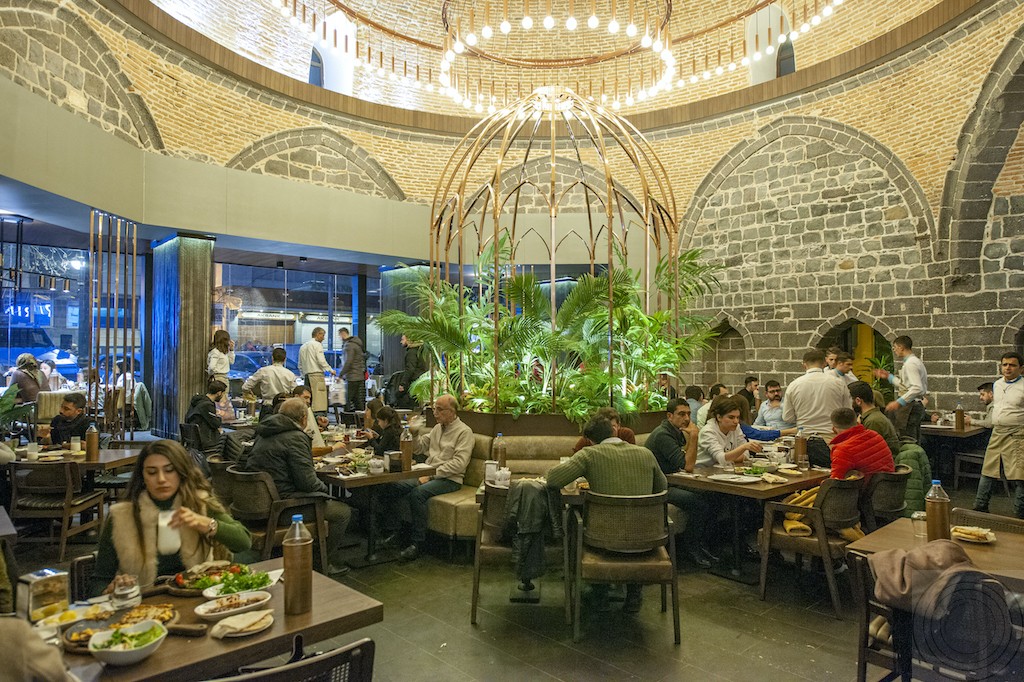 The former fountain right under the dome has been transformed into a kind of golden cage in which large green plants grow like in a greenhouse. Benches, tables and chairs for the guests are arranged in a circle. The former relaxation and sweating rooms are now also part of the restaurant and the former washrooms are perfect for use as private rooms.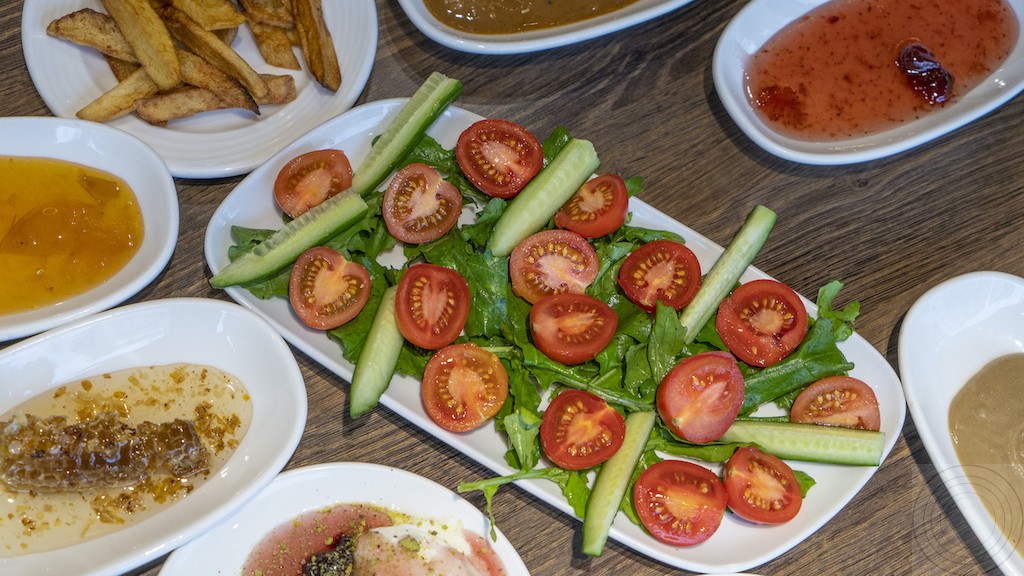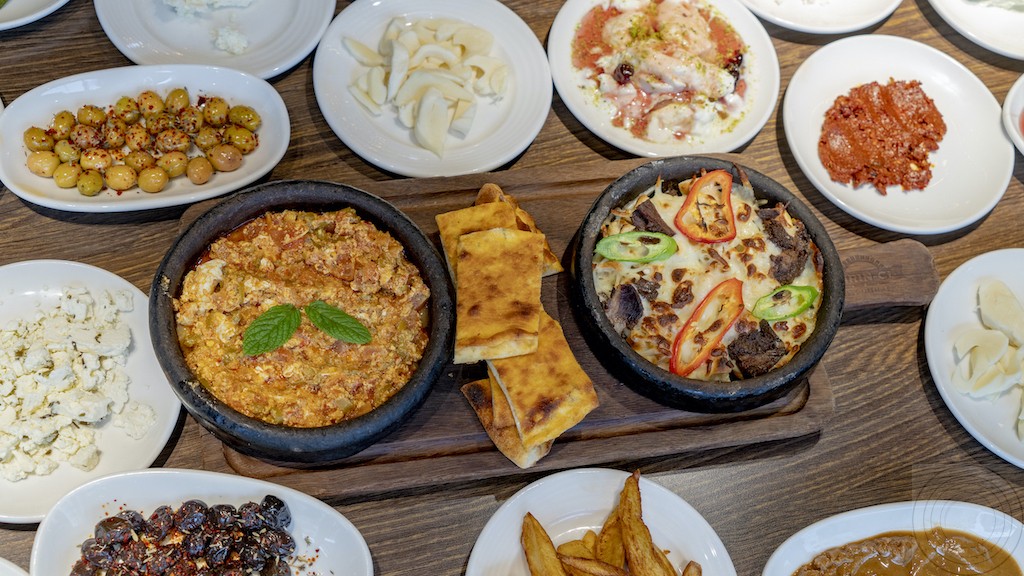 Fırın-ci opens its doors at 9 o'clock in the morning. The day begins here with meditative piano music. You order your breakfast and a little later the tables bend under the weight of at least 15 different plates of sweet and savory delicacies. These include a selection of Eastern Anatolian cheeses, honey spun or in a honeycomb, homemade yogurt, bread rolls baked in their own oven, yeast pancakes, "un kızartması" (wholemeal flour fried in butter), omelette with "kavurma" (a kind of roast meat) and and and and…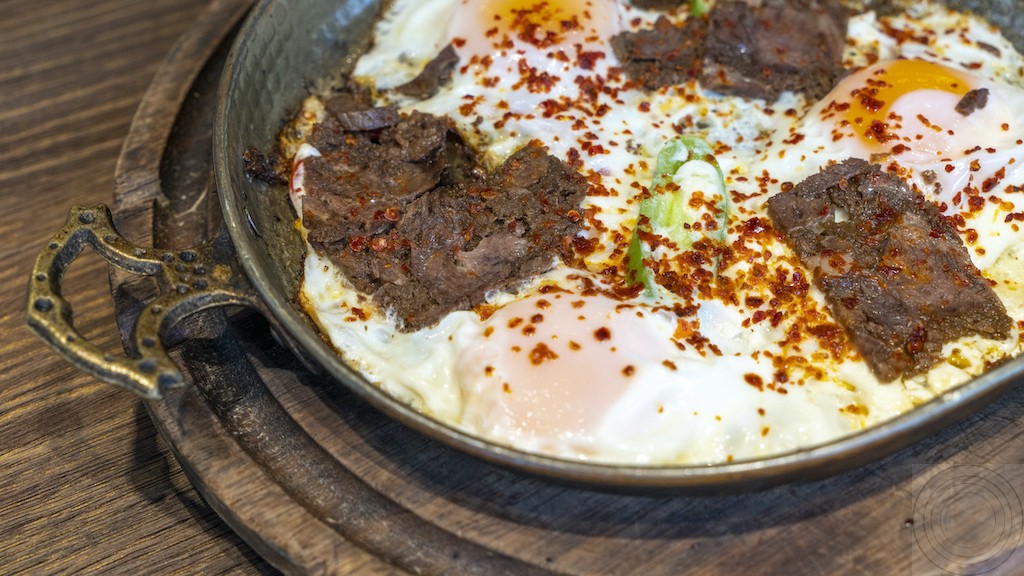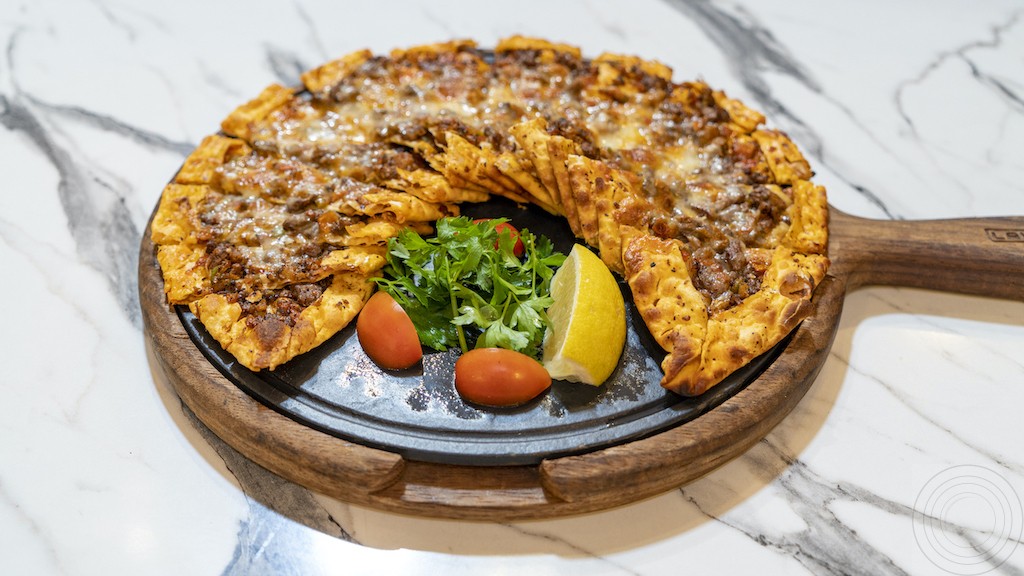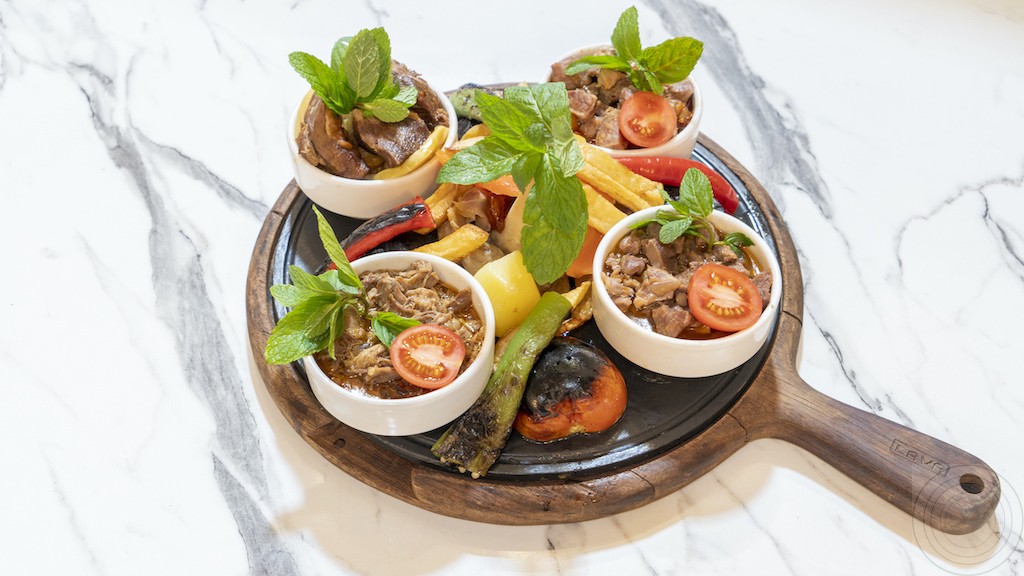 Lunch and dinner are served "à la carte" – rather unusual in eastern Turkey. In traditional restaurants, you either point to the ready-made dishes kept warm in a water bath or the ready-to-grill meat specialties displayed in a glass cabinet, or the waiter reels off a little spiel with the dishes that the kitchen has to offer.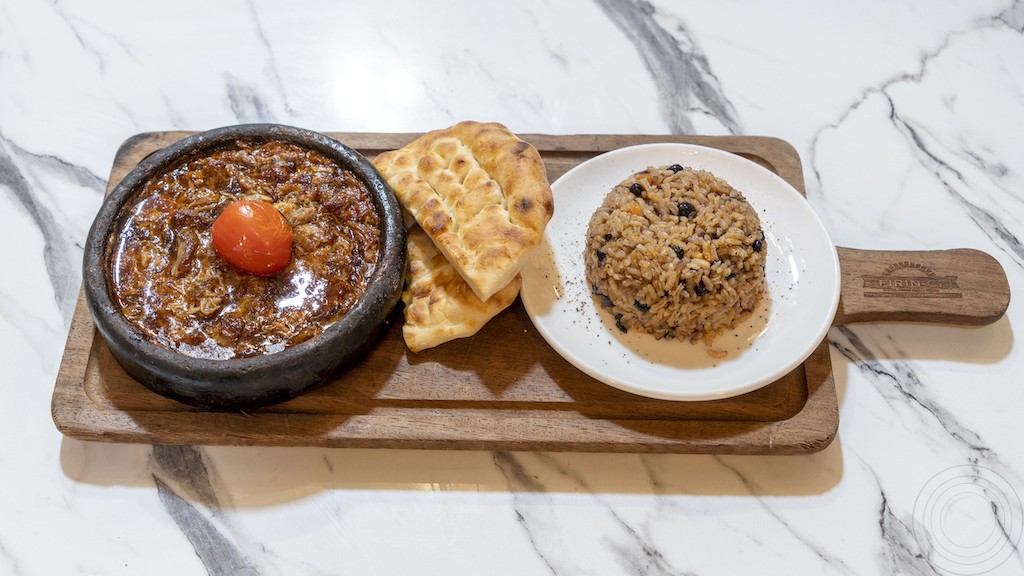 There is an extensive menu here and – oh wonder – the dishes served actually look like the appealing photos. We opt for lamb with quince and a "tandır" dish from the stone oven. Tandır (or tandoori) is a widely used cooking method in Turkey (as well as throughout the Middle East). Cooked for hours at a low temperature, the meat can be easily removed from the bone. Before the ordered main course arrives, a small selection of starters is served: shepherd's salad, green salad, spicy paprika mousse, garlic yogurt and deep-fried köfte in a bulgur coating, "içli köfte". How fitting a glass of wine or raki would be right now! Unfortunately, there is no alcohol. Resul, whom we approach, points out the immediate vicinity of the Great Mosque. We understand that, but assume that even without a mosque, a liquor license would have been difficult to obtain, as is the case throughout Eastern Anatolia.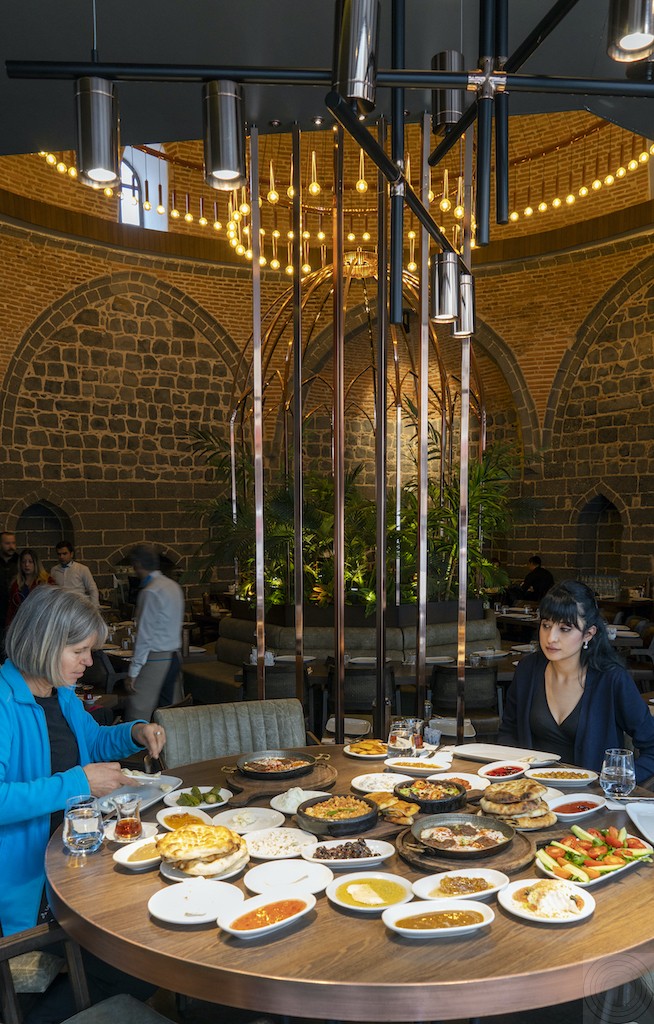 Even without wine, we enjoy the good food, but above all the extraordinary ambience of the historic room. Families, young couples, groups of friends – every table is occupied. The atmosphere is cultivated, but not snobbish.
A big surprise at the end is the bill – we pay the equivalent of just 10 euros per head! This is also favorable for eastern Anatolian conditions. When I ask him why he keeps the prices so low, Resul replies: "I want a middle-income family to be able to eat in my restaurant at least once a month. The people of Diyarbakır have suffered so much, I think they deserve it!"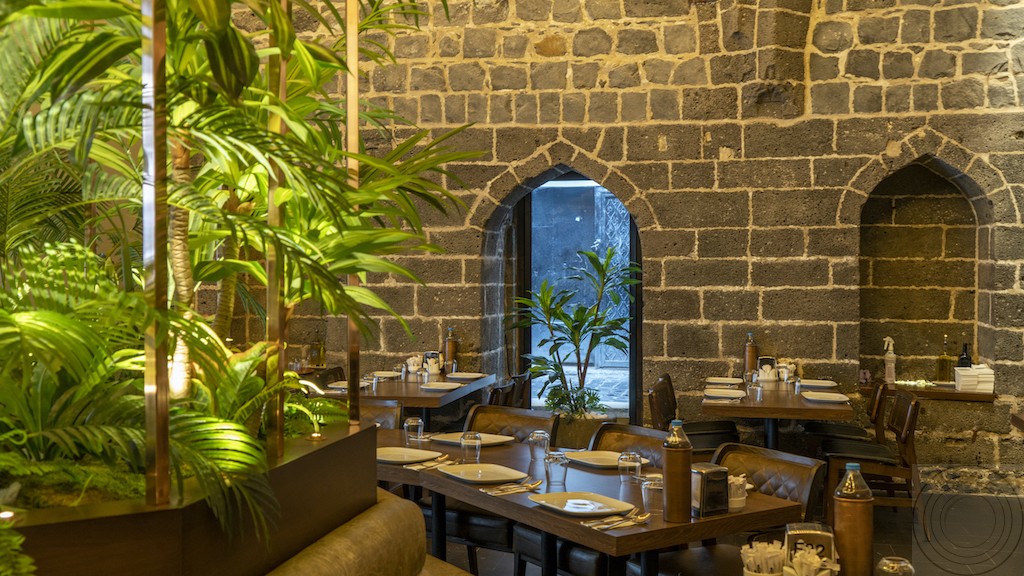 Impressed, I at least give a good tip and resolve to visit Diyarbakır again as soon as possible. And I would like to recommend a visit to this venerable city with its warm-hearted people to all of you!
Our restaurant recommendations in Diyarbakır:
(Avni Bey Konağı) Gazi Caddesi Kadı Camii Sok NO : 2 (Gazi Caddesi) | TR-21100 Sur-Diyarbakır +90 412 223 26 90 |
Kemikli Evi on Instagram
Contact: Fatih EVSEN
FIRIN-CI
(Vahap Ağa Hamamı)
Inönü Mah. Gazi Cad. Telgrafhane Şok. No:34 | TR-21300 Sur-Diyarbakır +90 412 252 02 06 |
www.firin-ci.com
Contact: Resul Fidan
Editorial contribution | No advertising.