Golden October
Sit under the colorful trees in the afternoon sun and enjoy life with family and friends!
While some are dreaming of summer and others are already thinking about Christmas, we are enchanted by the golden fall. It has a lot to offer in culinary terms: Pumpkins, the last sun-ripened tomatoes, juicy peaches, sweet grapes and crunchy pears.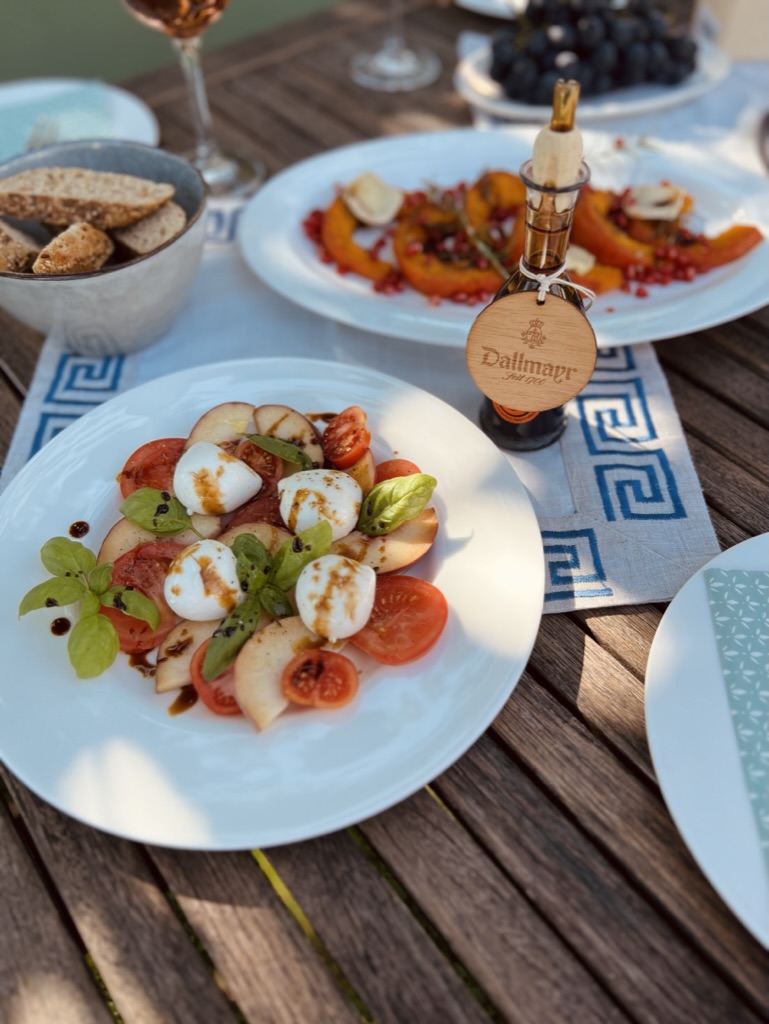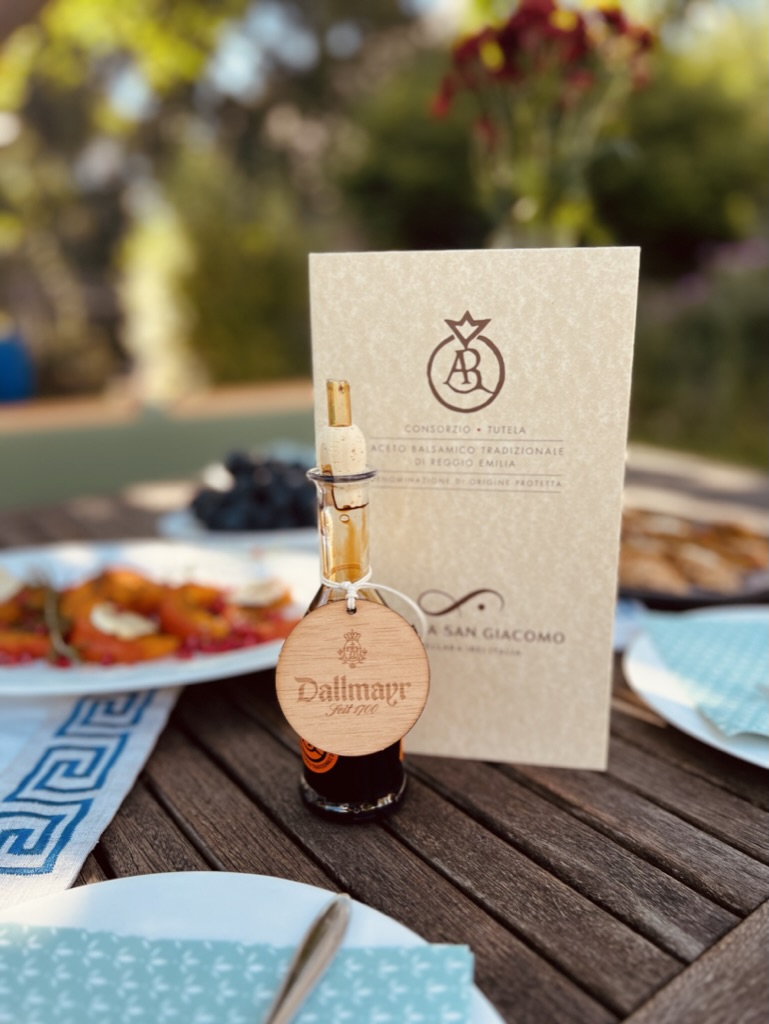 Aceto balsamico – an underrated delicacy
Everyone is talking about good olive oil, but its frequent companion, vinegar, often falls by the wayside. Today we are therefore putting the spotlight on balsamic vinegar, a real delicacy.
As with oil, there are enormous differences in quality. The Aceto Balsamico Tradizionale Reggio Emilia DOP, which belongs to the highest class of balsamic vinegars according to its classification, promises the highest quality and best taste.
The juice obtained from pure grapes matures for over 12 years. The result is an indescribably powerful vinegar with a light sweetness, intense aroma and bright color.
On Stage & in our Shop! You can order Dallmayr Aceto Balsamico directly from our online store order.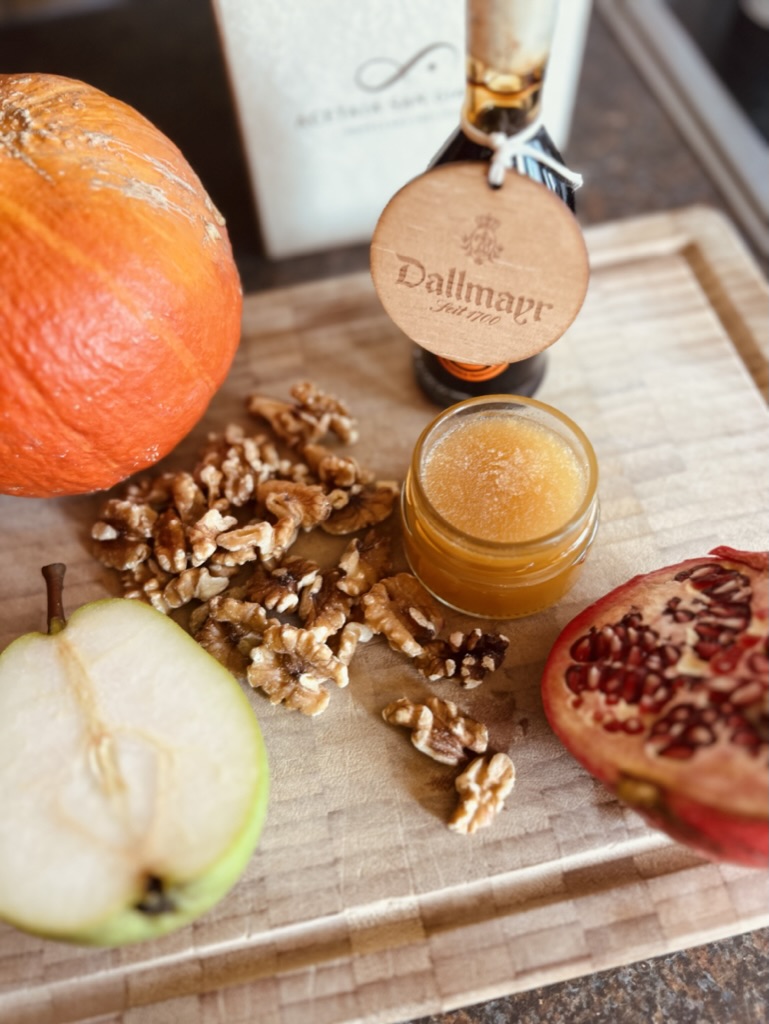 Appetizer recipes for an autumn aperitif
Roasted pumpkin slices, bruschetta topped with pear or buffalo mozzarella with tomato and peach. The balsamic vinegar gives the recipes that certain finish! The effect is particularly beautiful when the vinegar is drizzled over the prepared starters at the table.
Roasted pumpkin
1/2 small Hokkaido pumpkin
Aceto balsamico
1 handful of pomegranate seeds
5 sprigs of fresh rosemary
optional: 100 g sliced goat's cheese
Salt, pepper, olive oil
Put a little olive oil, rosemary, salt and pepper on the narrow slices of pumpkin. Bake at 200 degrees for approx. 20 minutes. Optionally, you can also roast the goat's cheese for the last 5 minutes.
Serve the wedges with fresh pomegranate seeds and balsamic vinegar.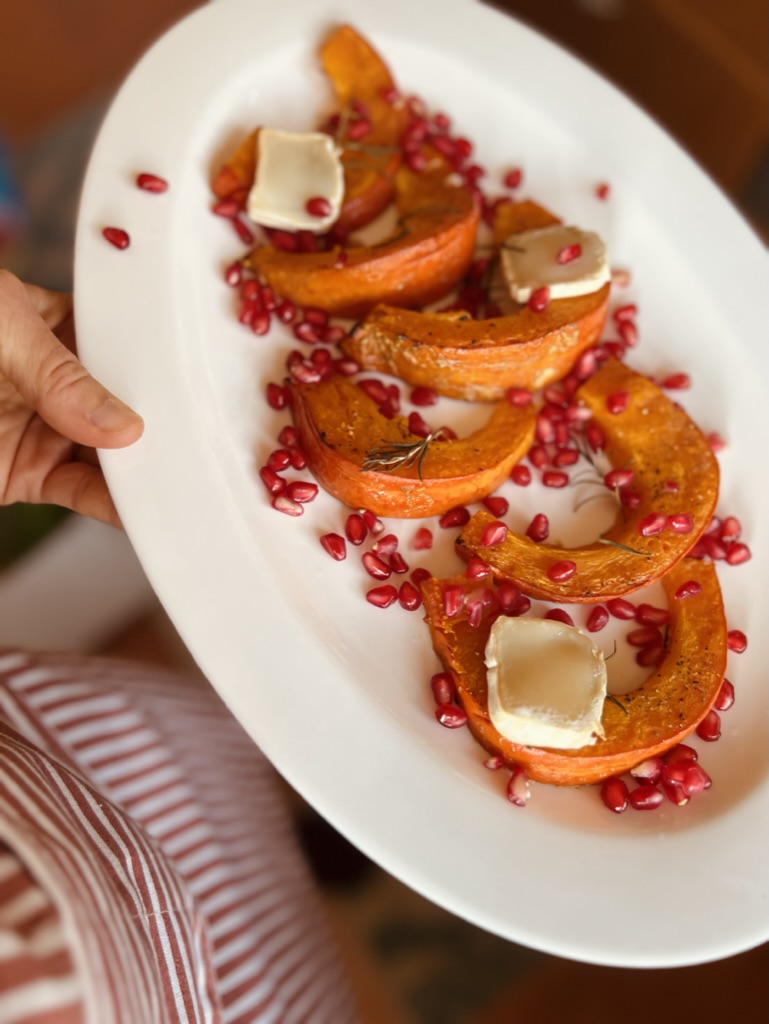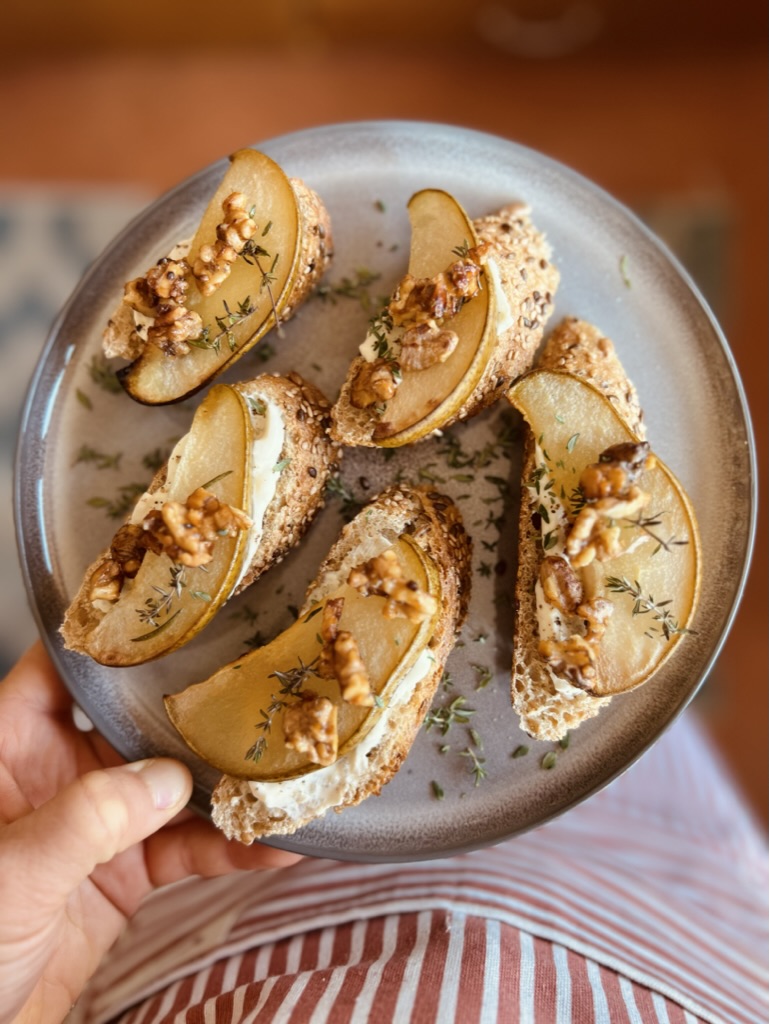 Pear bruschetta
1/2 baguette
Aceto balsamico
1 pear
1/2 cup of crème fraîche
2 tbsp walnuts
2 tablespoons honey
5 sprigs of fresh thyme
Salt, pepper
Place the pear slices in the oven at 200 degrees for approx. 10 minutes with 1 tbsp honey and thyme. Add the baguette slices in the last few minutes so that they turn golden brown.
Roast the walnuts in 1 tablespoon of honey.
Refine the crème fraîche with salt and pepper.
Top each baguette slice with 1 teaspoon of crème fraîche, a slice of pear and walnuts.
Serve the bruschetta with 2-3 drops of balsamic vinegar.
Peach and tomato caprese
3 – 5 tomatoes (depending on size)
1 peach
100 g buffalo mozzarella balls
Aceto balsamico
3 sprigs of basil
Olive oil, salt, pepper
Arrange the sliced tomatoes and peach on a plate.
Top with the buffalo mozzarella and basil, add a little olive oil and season the caprese with salt and pepper.
Serve the peach and tomato caprese with a few drops of balsamic vinegar.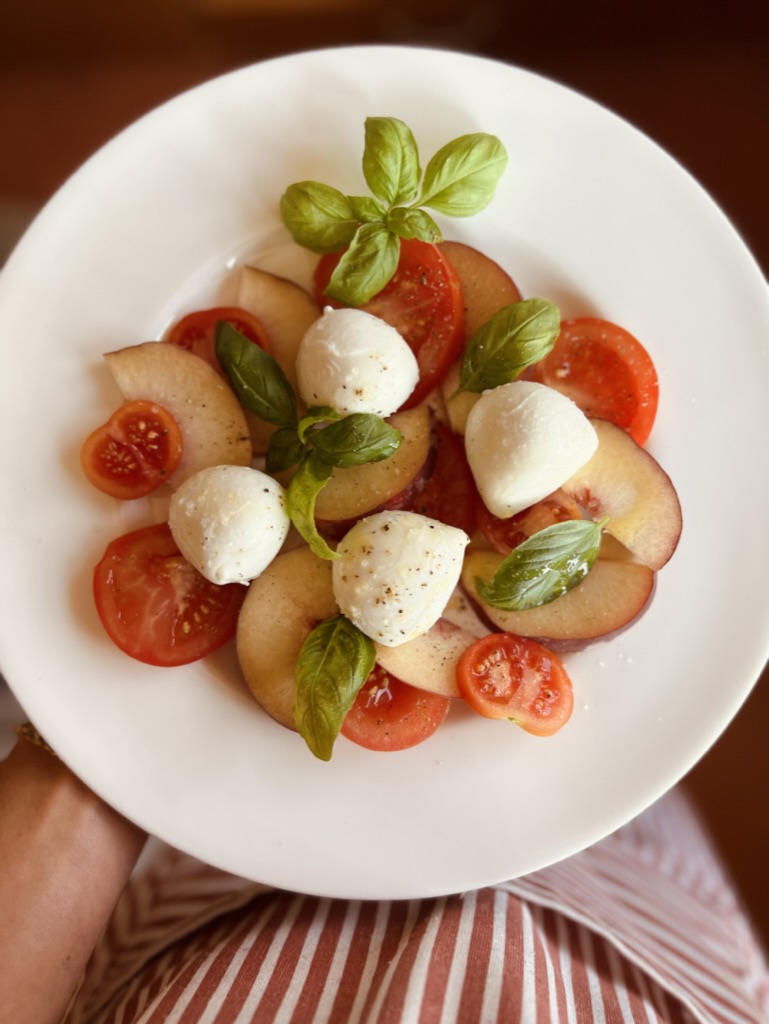 All-round talent for sweet and savory
You can enjoy our hearty starters with more than just an aperitif. The recipes are also perfect on their own as an easy lunch or starter for an autumn menu.
Mr. Food & Travel's tip
A menu based around balsamic vinegar – so simple, so good, so unique. The fact that vinegar is an all-round talent for sweet and savory dishes is something you can easily showcase in a menu. The main course includes lamb, veal and vegetables. For dessert, you can add the icing on the cake to classic vanilla ice cream or fruit sorbets with a few drops of balsamic vinegar. Buon Appetito!