Ingredients
for 4 persons
70g butter
5 tsp caraway seeds, roasted and lightly crushed
7 cloves of garlic, crushed
1 tbsp brown sugar
1 chicken (1.4 – 1.8 kg)
3-4 stalks of celery, cut into 1 cm cubes (300 g)
1 onion, cut into 1 cm cubes (140 g)
100g dried cranberries
100g cooked, peeled chestnuts, roughly chopped
4-5 slices of mixed rye bread, stripped of crust and roughly cut into 2cm pieces (100g)
15g parsley, roughly chopped
120ml chicken stock
Salt and black pepper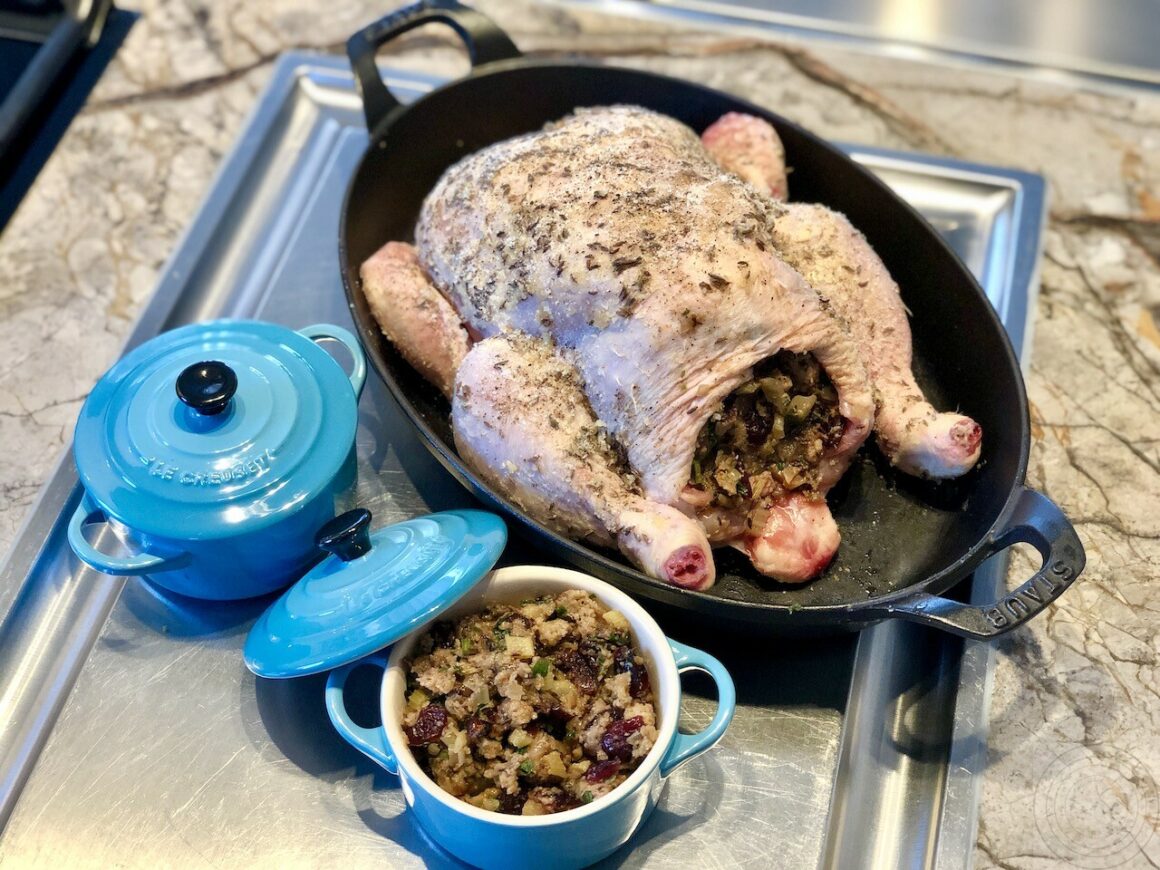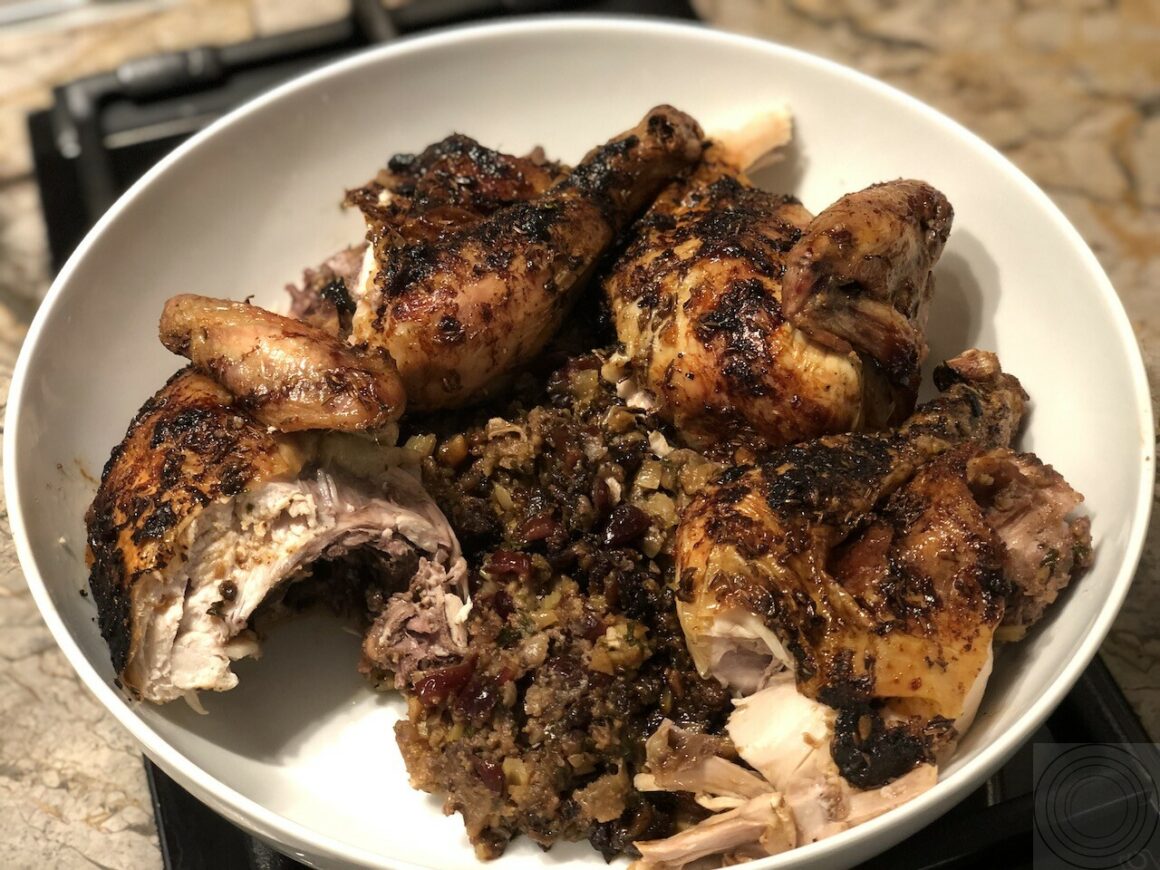 Preparation
For the marinade, melt 30g butter in a small pan and mix with 3 teaspoons of cumin seeds, 2 cloves of garlic, the sugar and 1/2 teaspoon of salt. Rub the rooster carefully with it.
Preheat the oven to 190°C fan oven.
For the filling, melt the remaining butter (40g) in a large non-stick frying pan over a medium to high heat and fry the remaining 2 tsp of caraway seeds for 2 minutes. Add the remaining 5 cloves of garlic, celery, onion, cranberries, chestnuts and 1 teaspoon of salt and stir-fry for 12-13 minutes until golden brown. Transfer to a bowl. Stir in the bread, parsley and stock.
Place the chicken in a roasting tin, season generously with salt and freshly ground pepper and stuff with the prepared mixture. Cook the excess filling separately in an ovenproof dish (place in the oven 30 minutes before the chicken is ready).
Roast the chicken in the oven for 70-75 minutes, basting with the juices every 20 minutes or so, until it is golden brown and crispy – it is done when clear juices run from the leg when pierced at the thickest part. Remove the chicken from the oven and leave to rest for 10 minutes before serving.
Murmelz tip
We used a core thermometer when roasting. The chicken was wonderfully juicy and cooked to a core temperature of 80°C. As a side dish, we chose a salad of fresh young spinach marinated with orange fillets and a honey and mustard vinaigrette.
Bon Appetit.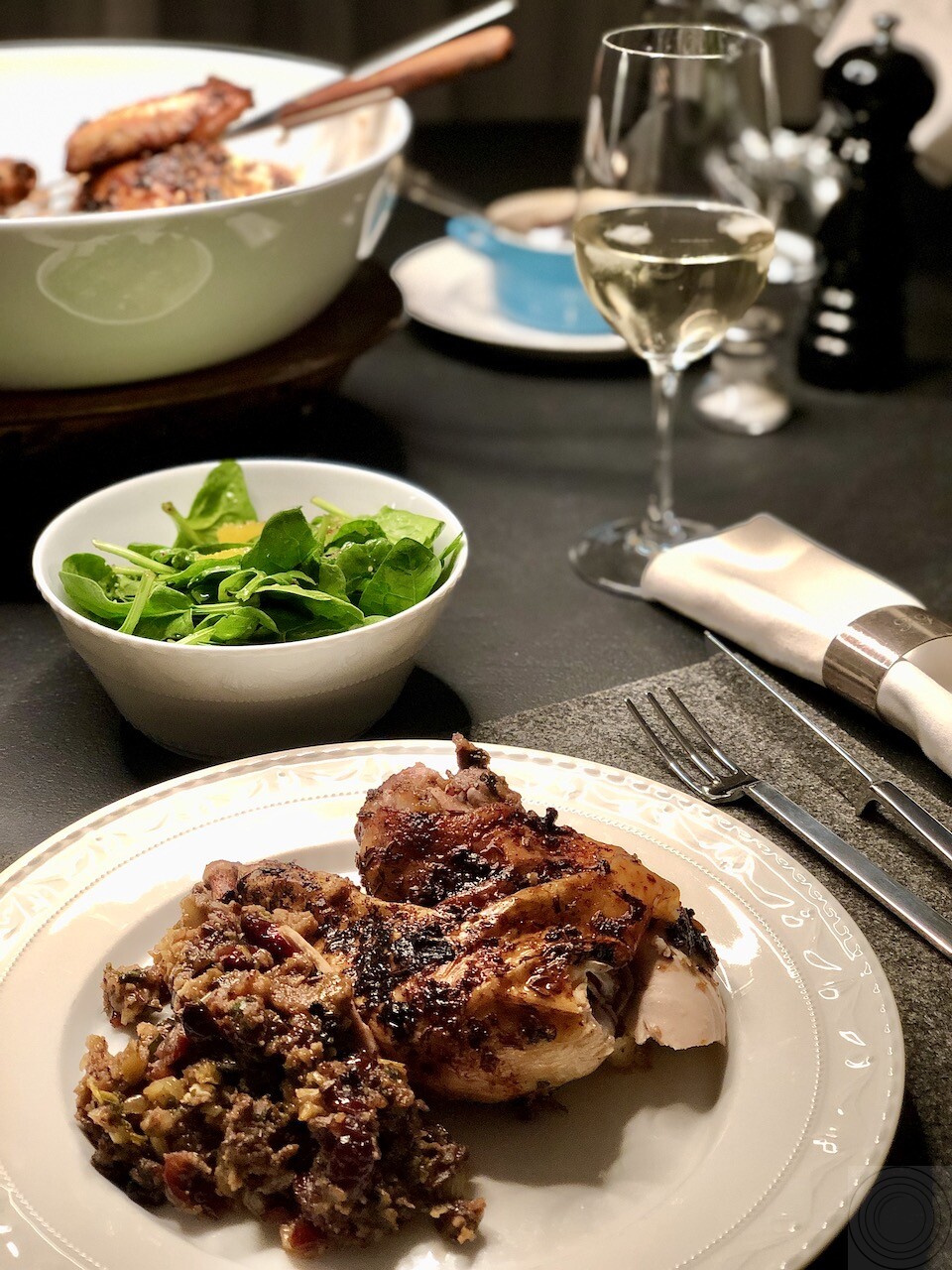 Editorial contribution | No advertising