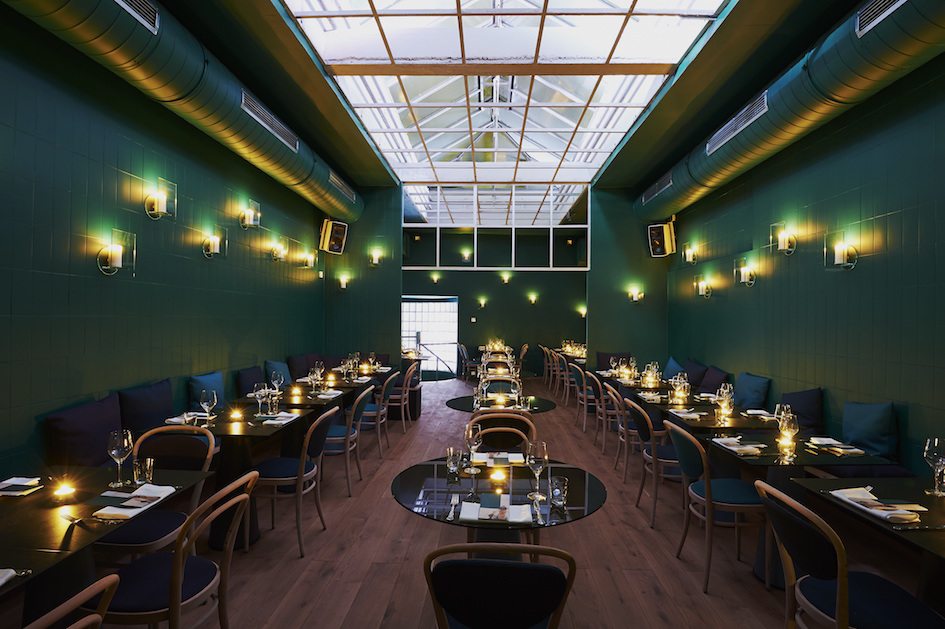 Vegetarian oriental food & seductive drinks with flavors from the Arabian Nights attract a creative Munich audience to the restaurant Kismet & the bar Kasbah, in the middle of the city, at Löwengrube 10. Murmelz boldly & gladly surrenders to "inevitable fate" – and thus to an adventure for all the senses.
Oriental Veggy Food
The cuisine at Kismet cannot be reduced to one country – rather, the menu offers a mixture of Arabic and Oriental cuisine, which has been in vogue internationally since Yotam Ottolenghi, the London showpiece chef with Israeli roots.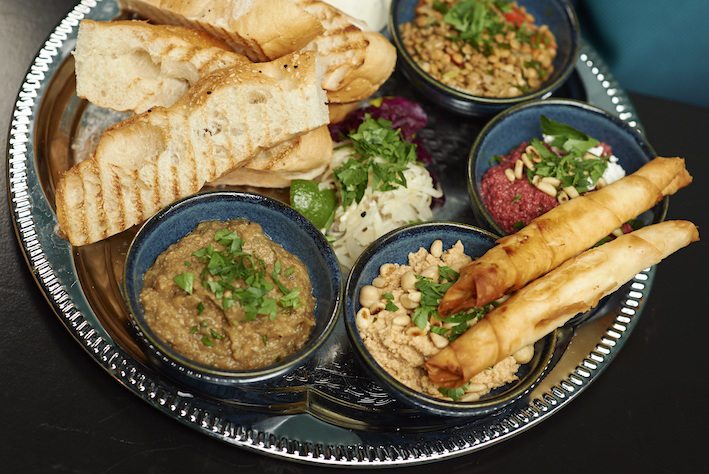 For some time now, hummus & co. have been fighting for a firm place in our latitudes – often inspired by exciting restaurant & bar concepts from New York, London or Paris – where aromas and flavors merge with the western world, creating a cosmopolitan and cosmopolitan atmosphere. Pure zeitgeist, but always modern and without kitsch, but absolutely sensual and full of pleasure!
At Kismet in Munich, the dishes are also served at the table on large family-style trays – the starter variation is a must, especially the hummus with pine nuts and barberries & the opulent beetroot cream with a hint of goat's cream cheese set the mood for the evening.
As long as you can sit outside on the terrace, Kismet serves a small mezze variation with every first drink – and we have heard rumors that the crew has also thought of a special for the colder season…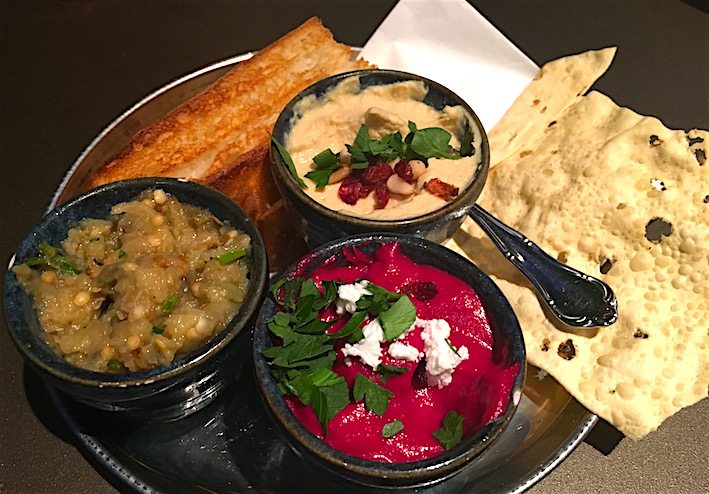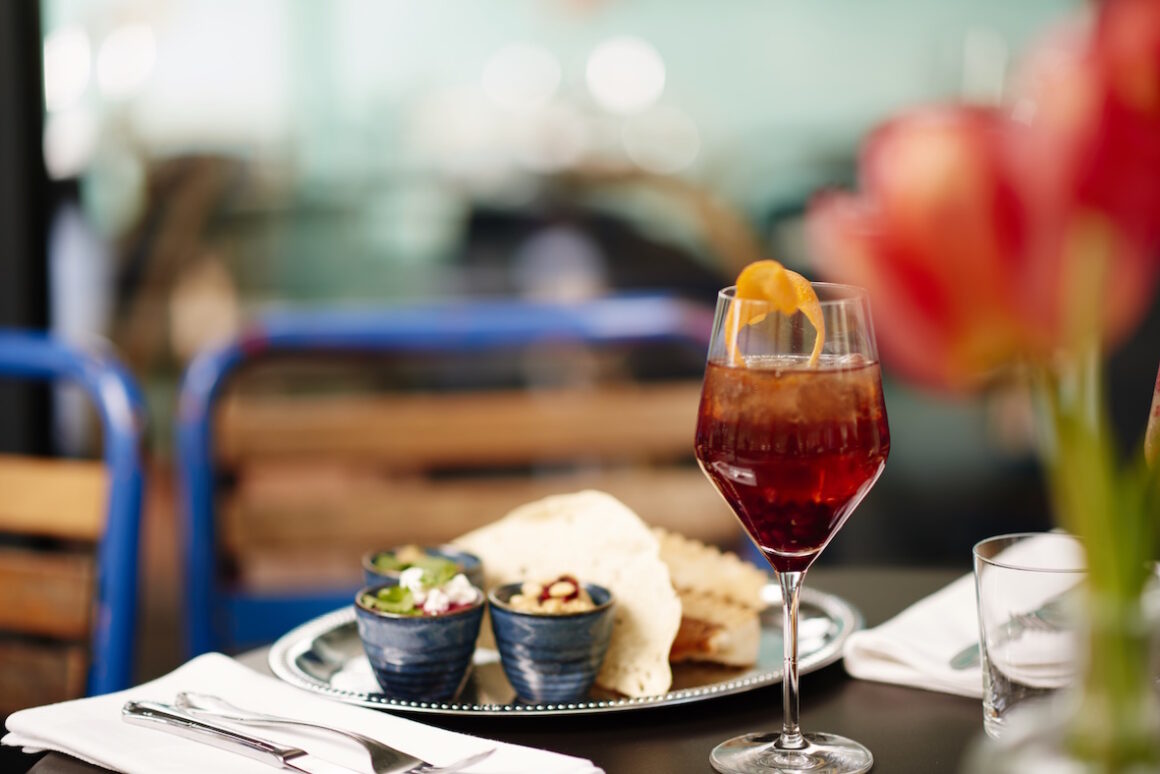 Signature drinks
Marrakech Mule, Beirut Punch or an Istanbul Fizz? The selection of modern, unusual cocktails at Kismet is large, almost too large – so it's a good thing that from Thursday to Saturday you can also simply sample the menu in the Kasbah Bar, on the first floor of the former patisserie, accompanied by DJs and live music.
Unfortunately, we missed non-alcoholic mocktails among the drinks – but we were compensated for this with unusual spritzer variations in summer.
Murmelz Favorite: Pomegranate-cinnamon, rose petals or ginger-lime. Incidentally, all wines are vegan and from selected organic or biodynamic wineries. The whites in particular harmonized perfectly with the spicy oriental soul food.
The Turkish gözleme – thin flatbreads filled with thyme & sesame or eggplant & tomatoes – or the crispy börek sticks filled with cream cheese are ideal for sharing over cocktails with friends. Together with the mezze, a perfect start to a long night.
Oriental Soulfood
When it comes to main courses, Kismet offers either specialties from the tajine or Indian thali. The North African stews are served in classic earthenware dishes, colorful to the eye and tactile to the touch. We chose the chickpea version with salted lemon and grilled cheese, flanked by cheerful yellow couscous. The tajine could have done with a little more heat and spice, but the tangy salt and lemon flavor is aromatic.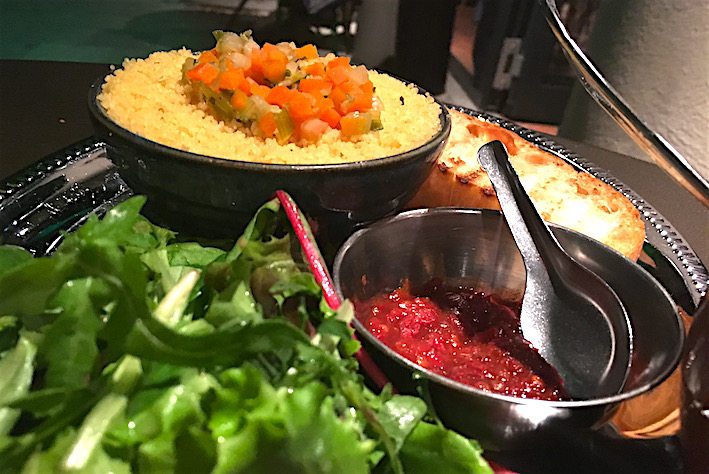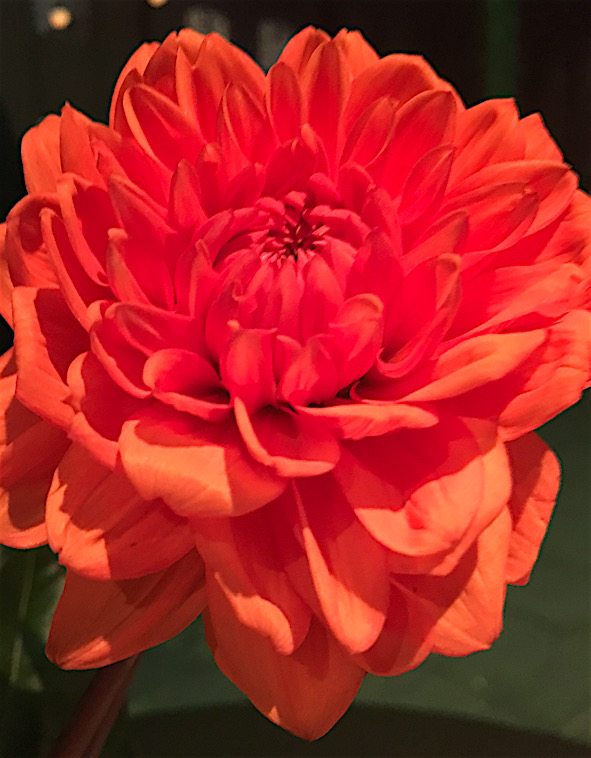 The thali is a flight of flavors – three different Indian curries with raita, chutney and fiery coconut sambal, flanked by red rice, flatbread and wafer-thin papadam bread. Spicy and sinful lentils & spinach in creamy coconut, fiery aromatic and with a bite in the potato curry. Anyone who misses meat or fish is simply beyond help…
However, we could have done with some help afterwards, as we unfortunately had to do without the oriental desserts due to lack of capacity. At the next
Oriental Sundowner
the baklava with a lavish amount of pistachios will have to believe it…
Opening hours
Kismet: Monday – Saturday 6 p.m. to 1 a.m.
Kasbah: Thursday – Saturday 8 pm to 2 am