From mid-October, when the summer heat is over and the first rains herald the "second spring" in the Mediterranean climate, a final tour de force of the harvest year awaits the rural population throughout the coastal area of the Aegean: the olive harvest.
All year round, the gnarled olive trees with their shiny silvery-grey leaves stood around more or less unnoticed, but now the tractors rumble to the gardens and mountain slopes, some of which are far away from the villages, and relatives and friends are called together to harvest the fruit that – at least in good years – forms the basis of many villagers' livelihoods. Even today, olive oil is still considered "liquid gold"!
Olive trees grow slowly – the cutting only bears its first fruit after seven years – but they can live for hundreds of years. They are also undemanding and do not need to be watered after the first few years. Olive trees often even survive forest fires without major damage. No wonder they are a valuable asset that is passed down through generations.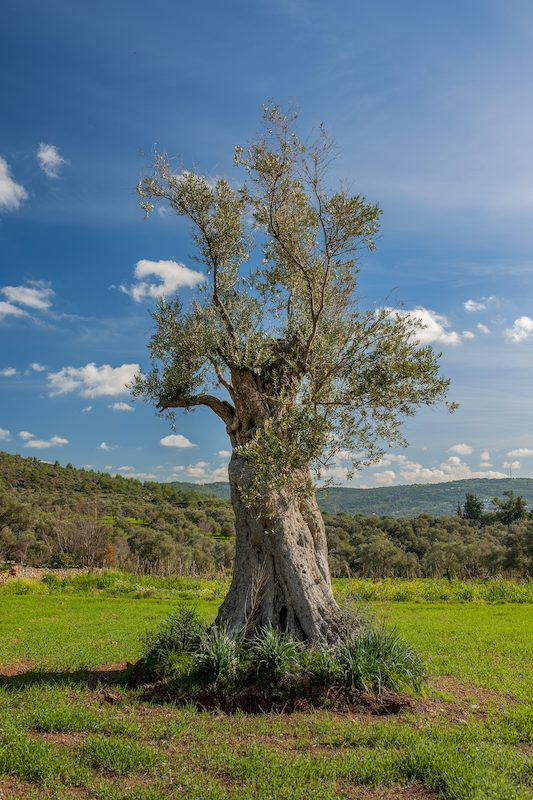 Incredible but true: in Turkey it is even possible to register them as the property of their original owners at the land registry if the land on which the olive tree stands is sold.
The olive harvest
But harvesting is a laborious task, because if you want the best quality, you pick your olives by hand and don't just wait for them to fall by themselves. Sometimes the trees are so tall that the villagers cut down the olives with long sticks – a widespread but fatal custom, because the fresh shoots that would bear the olives the following year are also cut down…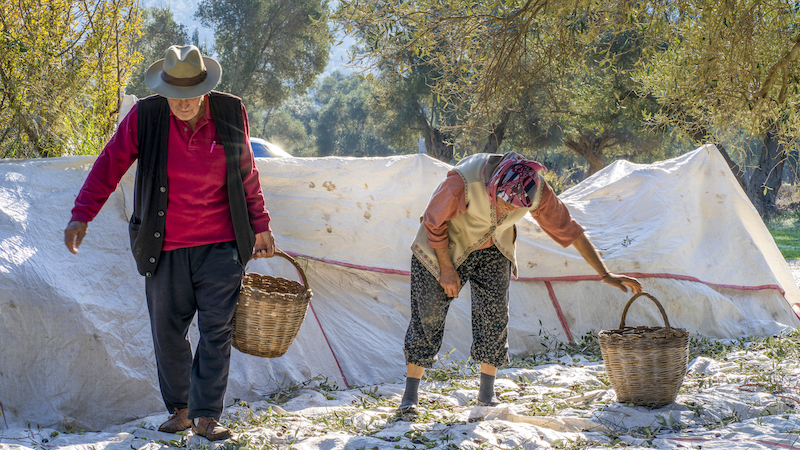 Traditionally, the men are responsible for cutting, shaking and picking the fruit from the tree, while the women pick the fruit from tarpaulins spread out under the tree and fill the baskets and buckets they have brought with them. The olive growers sort out the best olives to preserve them as table olives. The rest is given to oil production.
Olive use
As olives are too bitter to eat directly, even when fully ripe, the bitter substances have to be removed using various treatments. There are a variety of ways to prepare table olives: you can use them unripe (green), medium-ripe (purple-brown) or ripe (black), crush them with a stone or score them lengthwise, remove the stone, stuff them with paprika or almonds, pickle them in brine or water, or simply let them ferment in coarse salt.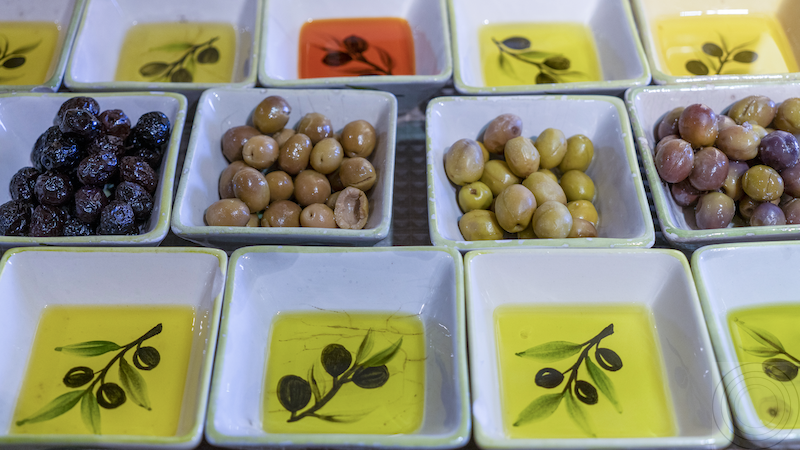 Olive flavors
Considering that over 90 different varieties of olives are grown in Turkey alone, which develop different flavors depending on the soil, altitude above sea level and climatic conditions, there is an immense number of possible flavors.
The same applies to the oils that are pressed from these different varieties. Turkey's olive-growing regions stretch from the southern coast of the Sea of Marmara to the Aegean coast, along the Mediterranean Sea to the Syrian border, with the Aegean leading the way with 53% of total olive production. The olive oils from the northern Aegean around Ayvalık, where the large Turkish olive oil factories are based, have always had a particularly good reputation.
Olives from the South Aegean
For some years now, however, olive oils from the South Aegean – i.e. the region south of Izmir, via Bodrum to Marmaris – have been catching up enormously. Ambitious boutique producers are increasingly returning from international competitions with prestigious awards.
The olive growers of the South Aegean rightly speak of the triumph of the Memecik olive. The variety that has been grown in the present-day provinces of Aydın and Muğla for at least 2000 years.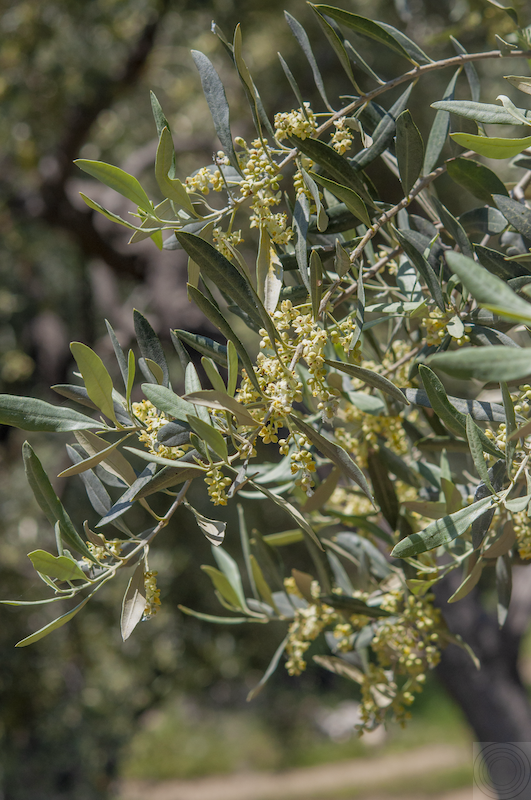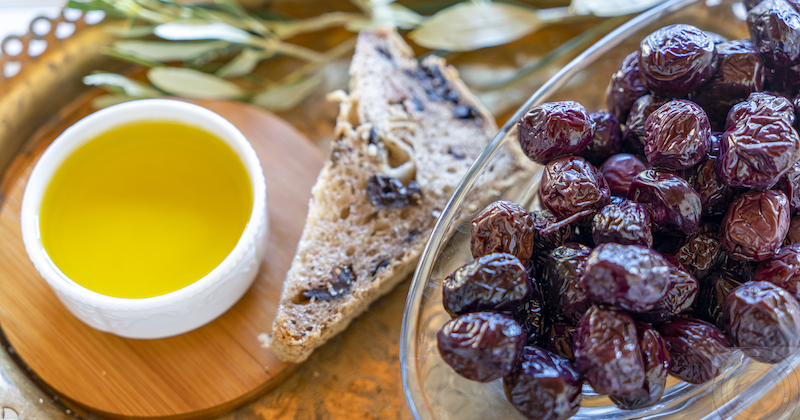 Memecik Olive
Memecik' – meaning "little breast" – takes its name from the nipple-like extension at the lower end of the fruit. It finds its place in regional cuisine both as a green or aubergine-colored table olive and in liquid form.
The special scent of Memecik olives
First-class oil from Memecik olives changes its fragrance over the course of the seasons! In winter, shortly after production, it smells of fresh grass and freshly picked tomatoes. In late spring and summer, it has a scent of orange blossom, and particularly high-quality oil also has a taste of green plums.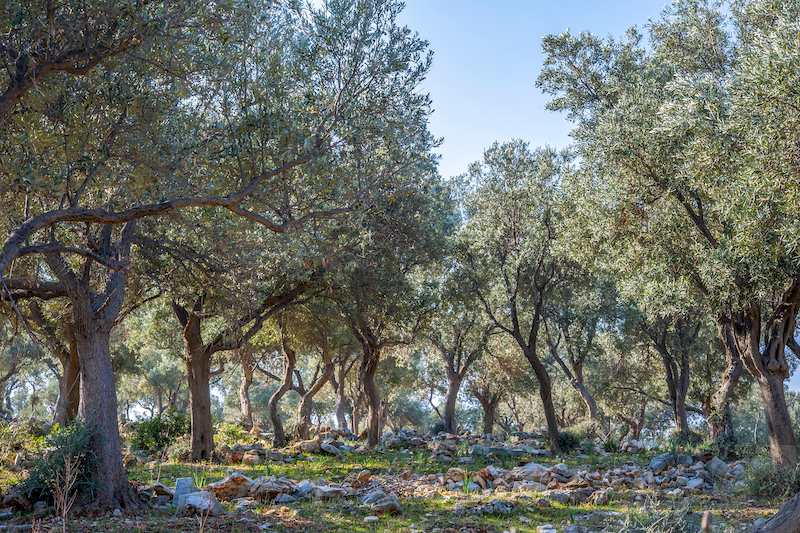 How do you produce and recognize good extra virgin olive oil?
Pharmacy graduate Atilla Totoş, who has been running a state-of-the-art oil mill in Yatağan/Muğla, not far from Bodrum, since 2008, answers this question for us. He presses the oil there for his own brands, but also for other olive growers who appreciate Totoş's expertise and the results of modern olive oil technology. Attila Totoş is now also chairman of the Association of Boutique Olive Oil Producers of Turkey.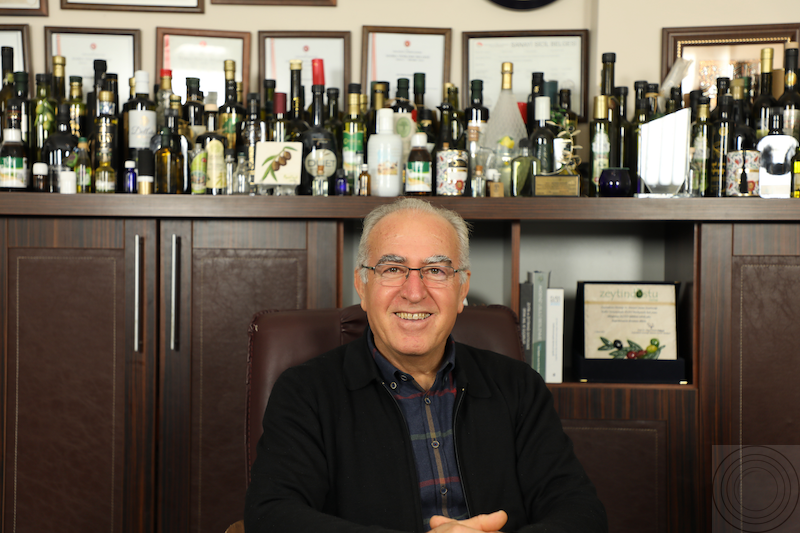 Atilla Bey, what characteristics should olives have that you use to produce olive oil?
Whether still green or fully ripe, only intact fruit picked directly from the tree should be used to make first-class olive oil. If they are hit with sticks, they crash to the ground from a great height, often causing injuries. Olives that have already been lying on the ground and have started to rot completely spoil the quality of the oil. It is also important that olives are processed as quickly as possible after picking and not left to wait for days in sacks, possibly exposed to the sun or rain, for further processing.
What is the difference between oil from green olives and oil from black olives?
We start harvesting the unripe green olives on the southern Aegean coast at the end of September. Then they still contain little fat, but have a high proportion of polyphenols and antioxidants. Oil obtained from early harvested olives is very valuable and is mainly used in medicine. High-quality olive oil has countless beneficial effects: it lowers blood pressure, stimulates the metabolism, is vasodilatory, is suitable for treating Altzheimer's disease and stops the growth of cancer metastases. When applied to wounds, it accelerates healing and has been used in skin and hair care for thousands of years. The oil content of the fully ripened olive is higher – but the proportion of medically valuable substances is no longer as high. Oil from ripe olives is therefore mainly used in the kitchen. Incidentally, the positive effects of olive oil disappear when exposed to heat. If you want to cook with olive oil and retain as many health-promoting substances as possible, you should cook your food with a little olive oil and add the rest of the oil when the dish has almost cooled down.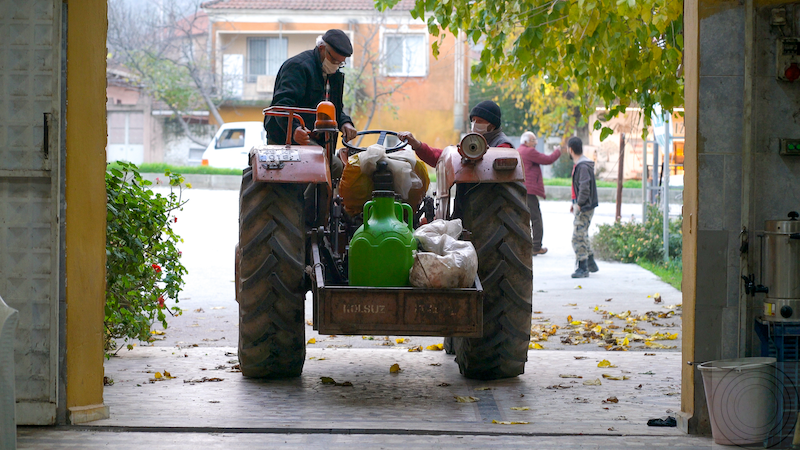 What factors influence the quality of olive oil during processing?
Modern oil mills work according to the latest scientific findings and achieve better results than older systems by shielding them from external influences such as air, light, heat and moisture. It is crucial that the olive paste does not come into contact with temperatures above 27°C at any time. Another important point is the daily cleaning of the system. Leftover olives can ferment and thus have a negative effect on the entire subsequent production. Freshly pressed, naturally cloudy oil tastes fantastic, but it can only be stored for a few weeks, after which it begins to ferment. The fresh oil should therefore be stored in chrome-nickel tanks for around two weeks to allow residues and suspended matter to settle. It is then filtered and stored at a constant temperature of between 18 and 22 degrees until bottling. It will keep for over 1 year in dark tinted glass bottles or metal canisters if stored in a cool place.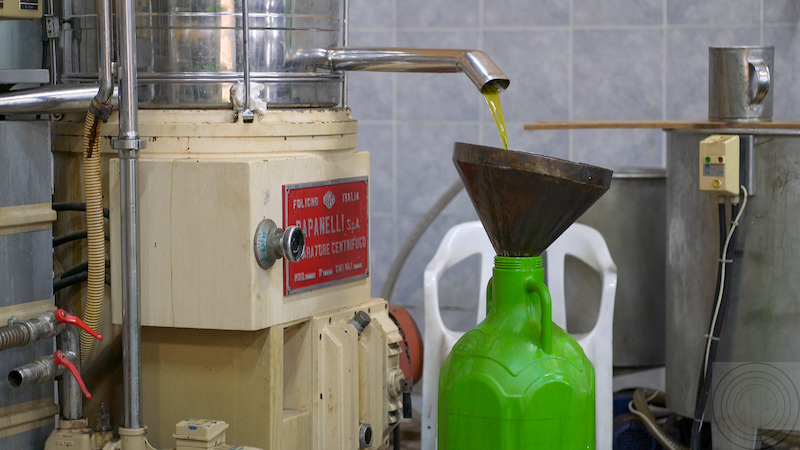 How can you recognize good olive oil?
Of course, you should look at the information on the label – first-class extra virgin olive oil must not contain more than 0.8% unsaturated fatty acids; a value of less than 0.3% is best. But the smell and taste of the olive oil are also important. It should smell fruity, taste slightly bitter and leave a slight scratchy sensation in the throat after consumption.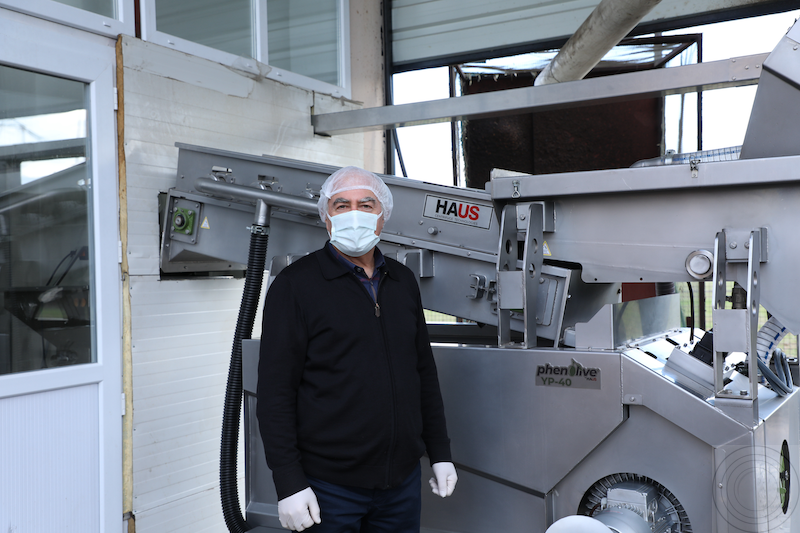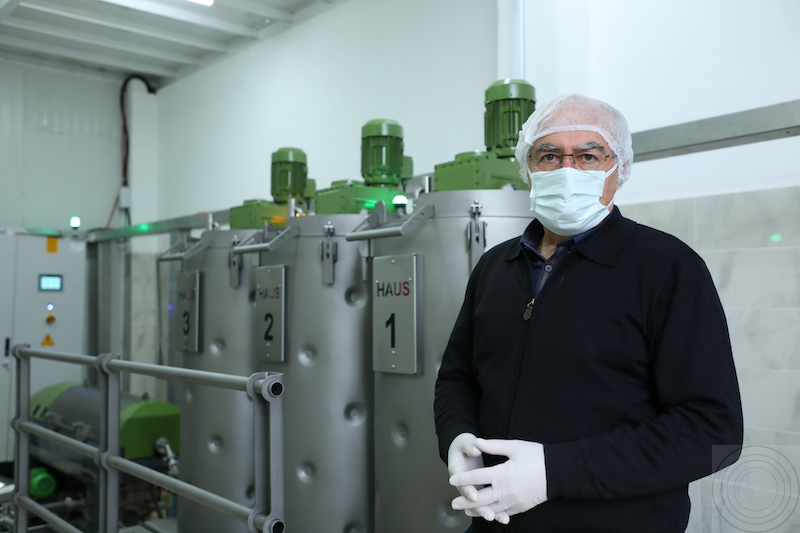 How did you come across the Memecik olive?
Although I come from Ankara and had little to do with olive oil until I got married, we settled here because my wife is from Muğla. In addition to the pharmacy, I also wanted to work in agriculture and had actually thought about a progressive dairy business. But then I was advised by many people that I should invest in the production of olive oil, which has been neglected for centuries. I did this, read and experimented a lot and discovered the great potential of the 'Memecik' olive, which is widespread in Muğla and Aydın, but has not been widely used even in Turkey. I can proudly say that my successful participation in international competitions has made this olive variety known worldwide. The gourmets who come to such competitions were highly amazed at the medicinal effects and excellent taste of Memecik oil. As a pharmacist, I am naturally particularly interested in the healing properties of olives. I also produce an oil mixed with olive leaf extract, which is not used in the kitchen but is taken daily like a medicine. Olive leaves help against rheumatism, arthritis and arterial hypertension. Just a few months ago, a scientific study conducted at the Ankara University Faculty of Medicine showed that our oil mixed with olive leaf extract can heal mitochondrial defects in human cells.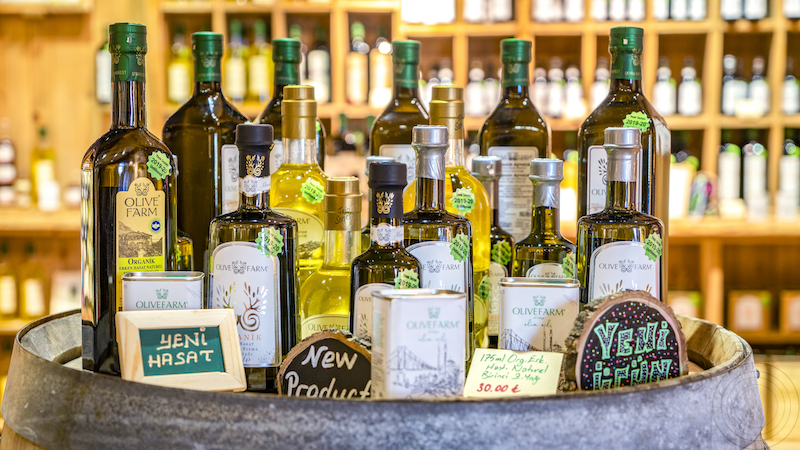 Which olive oil should you buy?
Turkish olive oil is virtually unknown in Europe. This is not primarily due to a lack of quality or insufficient quantity – after all, Turkey is the world's largest producer of olives after Spain, Italy and Morocco, and the trend is rising. In addition to a number of major brands that also offer the low-quality, refined "Riviera" oil, there are now a number of very ambitious boutique producers in Turkey whose oils return from international competitions with prestigious prizes. However, the European olive oil market is dominated by Italian producers who have no interest in other exporters establishing themselves. So it will probably be a while before Turkish olive oil becomes accessible to a broad customer base in Germany. A first step has just been taken: since December 23, 2020, "Milas olive oil" (from Memecik olives) has been listed in the EU quality register as a protected designation of origin – as the first Turkish olive oil and the fifth Turkish agricultural product ever.
Olive oil production like in the old days
More information about Attila Totoş
You can find information about the products from the TUAY boutique olive oil mill here:
Editorial contribution | No advertising.